Mystic Shake was an incredibly innovative, eclectic, and fun band from the Lansing, MI area. Due to the relocation of their founder and percussionist Dick Rosemont to Santa Fe, NM, they played their farewell show on December 5, 2010 which was attended by a flock of fans shaking their cans. Mystic Shake will live on in the memories of their devotees and in their three CDs, below is the story of Mystic Shake . . .
In the late 1980's, Lansing MI-area guitarist Dick Rosemont decided to take up drums and looked for fellow musicians to jam with. A core group developed of Dick, Bruce Landrick on guitar and vocals, and Phil Throop on flute, percussion, and vocals. After investing time with a succession of would-be bass players, they decided to move forward with Glenn Hookey.
Mystic Shake officially became a band by playing a party on April 12, 1990. A few songs performed that evening still showed up in the band's repertorie for years, including "Run Joe" and "Coming Home Baby". The band's name was coined by Rosemont, who thought it was intriguingly vague while offering a hint of the band's rhythmic About this time, Dick took the opportunity to join a new group, The Downtown Blues Band, with a regular weekend gig playing at Tango's, a club in Lansing's old Knapps building. For about six months, Rosemont gained drumming experience while continuing to develop Mystic Shake. By the end of 1990, Dick parted ways with the Downtown Blues Band (who subsequently became Root Doctor) and concentrated on Mystic Shake. The group billed their style of music as "Rockin' Rhythm & Reggae", but incorporated many diverse styles. Playing private parties, Rick's American Cafe in East Lansing, and municipal events such as art festivals, Mystic Shake gained wider exposure and solidified its sound. A three-song demo tape garnered radio play on the Michigan State University radio station WDBM-FM.
By Fall 1991, Glenn decided he was interested in joining another local band, Diatribe. Fortunately, Dick Johnson was able and willing to jump into the bass void, adding his vocals to the group. By this time, Dick R. was also contributing backup vocals. The group started traveling more, with gigs in Ann Arbor, Grand Rapids, and Kalamazoo.
While playing at the Rivera Cafe in East Lansing in the spring of 1993, Mystic Shake was joined on stage by a sax player named Steve Miller (quickly named the "Space Cowboy"). About the same time Steve joined the group, Bruce left to pursue film school. Replacing him was Ben Hassenger on guitar, vocals, and keyboard. The sound of the group was growing more broad and Ben's original songs were quickly added to the setlist. This line-up had a live version of Hassenger's "Can't Believe", recorded at East Lansing's Small Planet bar, released on the Yikes Record's compilation CD So This is East Lansing Volume II.
c.1993 Steve, Ben, Dick J., Dic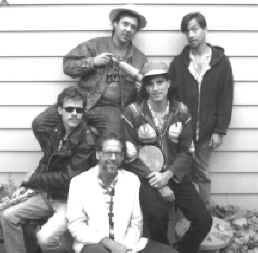 k R., Phil
Back in late 1992/early 1993, Mystic Shake recorded ten tracks for a CD of their own. By the time the disc was mixed and ready, personnel had changed to the point that the material didn't represent the current band, and it was never pressed and released. Later, Steve decided to get even more professional with his music, and after a stint with the band Soulstice, relocated to New Orleans. Before he left, he contributed a mighty sax solo to a live recording of "Wind Cry", featured on Impact 89's Live Harvest Down in the Basement radio show. The search for another horn player led to Tim Alteri a.k.a. Jay Biffler. He not only played sax and flute, but trumpet and trombone as well. The sound of the band was shifting with a more light-hearted approach evolving into a style they called "Rhythmic Fun". Phil then decided to go into other directions with his music and left the band.
The sound of Mystic Shake underwent a big change in 1995 when they played their first "unplugged" set as part of the Elderly Instruments showcase at the 10 Pound Fiddle folk society. (Dick J. was then employed at the store, Ben was an alummnus) They were joined by Elderly's owner Stan Werbin on ukulele for a rousing rendition of "The People's Key" (C of course) and "Two Women" (a song Stan's wife Sandy just loves, not!). Playing acoustic-style became Mystic Shake's preferred performance mode, the band started appearing at the Cappuccino Cafe on a regular basis, and fewer and fewer gigs were played as a full-blown electric band.
Later in 1995, another guitarist was added to the band, the local veteran Pat Malloy. He quickly fit in, adding a whole new palette of sounds to Mystic Shake with his proficiency and versatiltiy, and began contributing to the original compostitions of the band. A version of "Marie (A Hard Luck Story?)" was included on So This is East Lansing Volume 5. Tim left, semi-retiring from music, and another horn player hunt led to the young wunderkind Greg Bloy, a graduate student at MSU. Not only was he a whiz on tenor/alto/soprano sax, but he could also play percussion and sing background vocals. He was later recruited to play whistle on "Woman Like That" and sing lead on "All Night Long".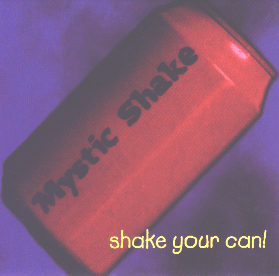 In 1997, the first Mystic Shake album Shake Your Can was recorded at the Edgewood United Church in East Lansing, where Greg was the organist. (Is there nothing this guy can't do?) Accordionist Mike Lynch and pianist Mike Skory lent their considerable talents to three songs on the CD. Shake Your Can was finished at Glenn Brown Productions and released on Wally Pleasant's Miranda label. Featuring 12 original compositions, the songs "Can't Believe", "In Between Truth", and "Lois" quickly became live favorites and appeared on the playlists of adventurous regional college radio stations. The album represented the electric sound of Mystic Shake, even as the band was playing more acoustic-style gigs.
Mystic Shake expanded their audience with appearances at the Michigan Festival, Democratic Party functions, backyard luaus, wedding receptions, children's concerts, schools, corporate events, and even a wake for the respected lawyer-poet Ted Swift. A highlight of this period was the opportunity to open up for one of their favorite and inspirational bands, NRBQ, in Ferndale, Ann Arbor, and East Lansing.
Their second album All Night Long was recorded by Glenn Brown live at their Ten Pound Fiddle show on February 5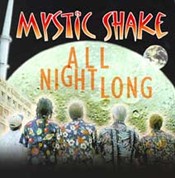 , 1999 and was released that summer. This acoustic-based performance featured eight originals, two parodies, and a wacky cover of "The Banana Boat Song". A highlight (or low point, depending on your sense of humor and fashion) was an appearance by the rarely-seen, polyester-clad Five Guys Named Dick, singing their theme song and a hilarious "YMCA" rip-off called "Y2K", an anthem of the upcoming millennium doomsday scenario. (Y2K" was retired from performances, for obvious reasons, after January 1, 2000, revived only once by a request at a wedding reception.)
January 15, 2000 was Greg's going away party. He had graduated from college, taken a good job in Texas, and prepared to move with his pregnant wife Lisa. It was a tearful, yet joyous gig that night at the Cappuccino Cafe. Greg had played an integral role in the progression of Mystic Shake, and while everyone was happy for him and his family, they were surely going to miss his friendship and musicial talents. Rather than try to replace Greg, the band decide to carry on with the four remaining members Dick R., Ben, Pat, and DIck J. ("Five Guys Named Dick was still played, with an audience member often filling in for the fifth Dick.) Each member had to cover more ground stylistically and musically, especially Pat who shouldered more lead guitar and harmonica work. While the sound had changed somewhat, it still maintained that infectious "rhythmic fun".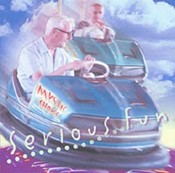 Ben purchased some recording equipment, and in the spring and summer of 2002, Mystic Shake began working in his den on their third album. The eight-song Serious Fun was released that September, just in time for the Ernie Harwell tribute tune "Voice of Summer" to be featured n Fox Sports television and National Public Radio's Only a Game, celebrating the culmination of Ernie's long and celebrated baseball broadcasting career. (Ernie called Ben to thank him for the song; a big thrill for Ben!) The parody "The Ballad of Cokie Roberts" was a big hit on the nationally broadcast Mitch Albom Show and their remake of Stan Freberg's "Tel-e-vee-shun" was played on the legendary Dr. Demento radio show. (How can it get any better than that!) The album, while acoustic-based, features electric instruments on a couple of tracks as well as a guest appearance by Greg Bloy, who played one evening with the band at the Cappuccino Cafe and was recruited (kidnapped?) to contribute a great sax part to "Paws" late that night. (He didn't get much sleep that night, he had to drive back to Texas at 6:00 the next morning!) The CD was also graced by the versatile Brian Hefferan playing banjo on "Cokie" and mandolin on "Because of You". (Brian has become the "fifth Shake", playing mandolin, banjo, ukulele, and saxophone with the band on various occassions.) Another guest highlight was the appearance of violinist Karl Pestka on "Back to the Sea". (Karl, an East Lansing High School graduate, totally knocked out Ben and Dick R. when he nailed his part for the recording, and is now a graduate of the music program at the University of Michigan.) Serious Fun also led to a "Best Local Folk CD" Jammie award nomination for the Grand Rapids, MI community radio station WYCE. Articles on the CD and band were also featured in the newspapers City Pulse and the Lansing State Journal.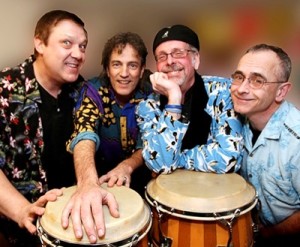 Until their farewell in December 2010, Mystic Shake played a variety of gigs and venues in the mid-Michigan area, delighting fans of all ages. The members are now involved in a variety of other musical projects: Ben becoming the "Ukulele Ambassador of Michigan", hosting festivals in Lansing and Interlochen, Ben & Pat recording and performing as Blue Jello and The Ukulele Kings, Dick Johnson as the founder of and bass player in the Jazz Doggs, and Dick Rosemont is the proprietor of The Guy in the Groove record store as well as running a very interesting website on original recordings: www.originalsproject.com. Dick Rosemont comes back to the Lansing Area periodically, so keep your ears open for a reunion show!