Learn to Play Ukulele!



"The ukulele is a musical instrument that's sociable, accessible and lots of fun – and the same could be said for Ben Hassenger, who's taught many a satisfied uke student in his classes and workshops here at Elderly Instruments. People always have fun in Ben's classes, and his propensity for turning ordinary people into ukulele enthusiasts is a public service of no small magnitude."
Chris Rietz (Workshop Coordinator, Elderly Instruments)
"Ben Hassenger has the ability to teach music and particularly the ukulele in a fun, thoughtful, and thorough way.  His students learn quickly and his classrooms are always filled with smiling faces and positive energy." "Ben is most definitely the minister-of-morale at the (Ashokan Ukulele) festival. His upbeat personality and positive attitude add so much to the weekend and make everyone feel at home and welcome."
Gerald Ross (Director, Ashokan Uke Fest)
"It is an absolute pleasure to collaborate with Ben Hassenger! He is an incredibly passionate, well organized, and extremely generous teacher when working with adult students. His approach to designing programs comes with a great deal of thought and his delivery of content is clear. His positive approach and enthusiasm for the ukulele is contagious and many of our adult students at Interlochen rave about their learning experiences with Ben."
Leslie Donaldson (Director of Engagement, Interlochen Center for the Arts)
"The leader, Ben Hassenger, is a skilled teacher whose influence makes this full day event successful." 
"I really enjoyed Ben's class, as a beginner I was able to keep up with his instruction and had fun."
Interlochen Uketoberfest students
Click here for more testimonials.
Have you always wanted to learn to play a stringed instrument, but were frustrated? The ukulele is a great instrument to start with for kids and adults; it's affordable, easy-to-learn, transportable, and fun to play with others. My method uses familiar songs to teach chords and strum patterns, you can find me teaching at various places throughout the year including:
Elderly Instruments
I teach private and group lessons here. Click on the link above for listings of classes or email me at: benhassenger@gmail.com to set up private lessons.
MSU Community Music School
I teach group lessons here. Click on the link above for listings of classes.
Interlochen Center for the Arts
I teach group lessons here a few times per year along with hosting the Uketoberfest retreat in early October. Click on the link above for a current schedule.
East Lansing Prime Time Senior Center
I teach beginning and intermediate classes here three or four times per year. Click on the link above for a current schedule.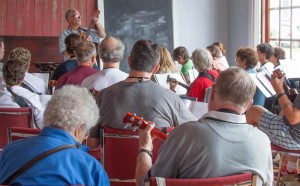 Do you run an ukulele festival? I've taught beginning to advanced beginning classes at events across the U.S. and Canada such as the Ashokan Uke Festival (Catskills, NY), London Ontario Ukulele Days (London, Ontario), and Dock Street Uke Camp (Shelburne, Nova Scotia), on a variety of topics, here are descriptions of some of the most popular:
Ukulele 101 For the beginning ukulele player. Learn the basics of the uke, including: parts of the instrument, tuning, beginning chords, and simple songs to get you used to chording and strumming. (Beginner)
Become One With the Strum Learning to play a variety of strums makes your playing more interesting to you and your audience. We'll explore folk, calypso, rock, polka, ska, and reggae strums along with the incredibly versatile "Benstrum" using some of your favorite songs. (Confident Beginner)
Play (Almost) Every Song in the World What do songs like "Last Kiss", "Where Have All the Flowers Gone", "With or Without You", and "Say Something" have in common? They all use the same four chords. Learn to play every song ever written (well, most of them, anyway) with these "Fantastic Four" chords and find out how to switch keys easily by using the Nashville Numbering System. (Confident Beginner)
Uke the Beatles Beatles songs sound great on the ukulele and we'll play an array of Fab Four tunes from simple to sophisticated, using an assortment of strums and chords. (Confident Beginner)
Intros, Endings, and Everything In-Between
Ben shares his nifty tips for getting your song off to a good start, working on fills and transitions in the body of the song, and wrapping things up with the proper ending. Learn to arrange the song to make it your own with accents and dynamics and you'll have your audience swaying their cell phones to and fro and throwing money at your feet! (Confident Beginner level)
Easy Tablature
Do you have a good handle on strumming, but would like to learn to play the melodies of songs on your ukulele? Ben will teach you how to read tablature, a way to read music for the ukulele without having to understand actual music notation. You'll be playing everything from "You Are My Sunshine" to "Ode to Joy" by the end of class. (Confident Beginner level)
Major to Minor Ukulele Inspired by Chase Holfelder's creative YouTube project, we will take songs typically in a happy-sounding major key and transpose them to a sad-sounding minor key. The process is fun and the results can be amazing! (Confident beginner to intermediate)

Strike a Chord Take your playing to another level by learning to play chords in various ways including moveable/barre chords, power chords, and "James Hill" chords. Great for players who want to differentiate their sound when playing with others. (Confident Beginner to Intermediate)
Alternate Tunings – Why Sound Like Everyone Else? Alternate tunings are great for stimulating your songwriting and making old songs sound new. We'll explore easy-to-play and great-sounding tunings including slack-key and minor tunings. (Confident Beginner to Intermediate)
Ukulele Toolbox Make a song your own with a variety of musical tools including alternate tunings, chord inversions, and strum patterns. Work together in small groups to create a unique rendition of a favorite song. (Confident beginner to intermediate)
Playing Well with Others This class focuses on fitting into a group, whether it's a small combo or a large strumming ensemble. Use various strums and chords that will complement what others in the group are playing.
I also love to lead group strums! (Here I am with Lanialoha Lee at the Great Lakes Folk Festival in East Lansing.) And, I can teach group lessons in your home by appointment. Email me for details.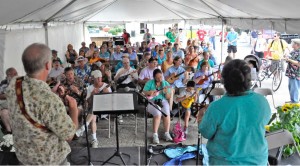 Here's an intersting article on how learning to play the ukulele helps develop children's social skills and the complete study.
Ben is proud to be an official Ohana Ukulele Teaching Artist